A.J. Casson Poster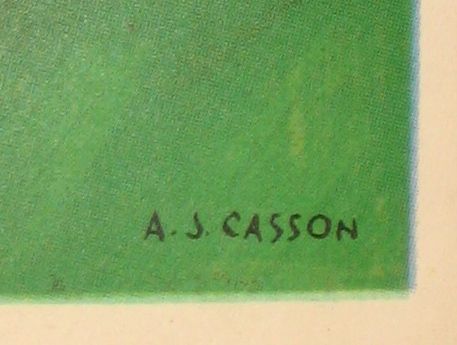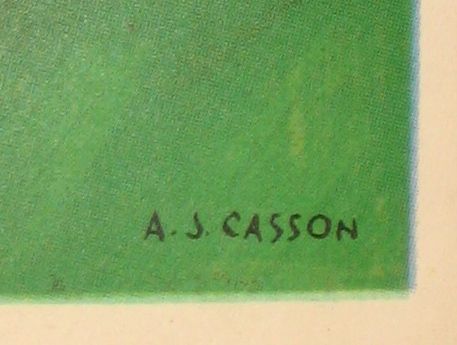 A.J. Casson Poster
Title: Noir Thé Salada
Artist: A.J. Casson
Image size: 14 3/4" x 9 3/4" (37.5 x 24.8 cm)
Description: Original color advertising poster for the Canadian Francophone market. Judging from the design of the packaging depicted in the image, the poster likely dates from the 1930s. Presently, the poster is matted and framed under glass. The frame measures 20" x 15" x 1" (50.8 x 38.1 x 2.5 cm).
Alfred Joseph (A.J.) Casson, (1898-1992), was the youngest member of the Group of Seven. He became a full-time artist only upon retirement in 1957 from a successful career as a commercial artist and designer with the Toronto firm of Sampson & Matthews.
Casson studied art in Hamilton Technical School in 1913, and with Alfred Howell and Harry Britton at Central Technical School in Toronto (1915-1917). He apprenticed with the artist Frank Carmichael at Rous & Mann in 1919, following him to Sampson & Matthews in 1927. Through Carmichael, Casson met his mentors, the Group of Seven, at Toronto's Arts and Letters Club.
Casson's design career was crucial to his art. An accomplished calligrapher, he excelled in streamlined design, loved pattern, and developed an exceptional visual memory. Casson co-founded the Canadian Society of Painters in Watercolour in 1926. He promoted Canadian art through his commercial work and arts organizations, instigating the WWII war artists program. He visited Britain in 1961.